Cottages near Pamplona, 10 km away. Ideal for resting of the stress during a small holidays with your family or friends. They are located in the heart of Cildoz, very close between themselves, with the possibility of renting together with a total capacity of 18 people.
The houses have a shared swimming pool and a private land for each one.
*Casa Platero I:
Traditional house in the urban core, independent and attached of the owner´s, 19 minutes from Pamplona. It has 4 double bedrooms. 2 full bathrooms. Equipped kitchen with terrace, living room with Tv, fireplace. Excellent views of the valley. Txoko with kitchen and bathroom.
*Casa Platero II
: Independent house of full renting, it is located in the urban core of Cildoz, quiet and nice village in the nature of 60 inhabitants from 10 km from Pamplona. It is built near of the house Platero I.
WHERE TO GO
Pamplona
Pamplona invita a disfrutar pausadamente de sus parques y a callejear por su casco antiguo; invita a degustar su gastronomía y sus populares pinchos, regados con un buen vino, disfrutar de festejos ún...
Robledal de Orgi
Bosque milenario, único testigo de los robledales húmedos seculares de Navarra con gran interés ecológico. Área Natural Recreativa con zonas de acogida, paseos y de conservación. Un paisaje singular q...
Santuario San Miguel de Aralar
Constituye uno de los centros de espiritualidad más conocidos de Navarra. Es un templo románico con tres naves y tres ábsides localizado en lo alto de la sierra de Aralar, desde donde se divisa una pa...
UPCOMING EVENTS
Platos de Caza Consorcio Bertiz
En Baztan, del 24 de octubre al 30 de noviembre de 2014
Jornadas gastronómicas de Caza. Localidades del valle de Baztan, Malerreka, Cinco Villas, Bertizarana y Xareta ofrecen exquisitos y sugerentes menús elaborados con los productos cinegéticos de la temp...
Baserritarren Eguna
En Arantza, 1 de noviembre de 2014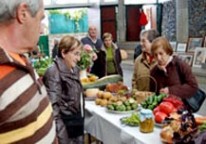 La verde monotonía de los montes del norte de Navarra se rompe con la presencia de enormes casas aisladas entre sí. Son los caseríos. No son sólo casas, también conforman una forma de vida dedicada a ...
Baluarte, 1-15 noviembre
En Pamplona, del 1 al 15 de noviembre de 2014
Programación de la primera quincena de noviembre en el Palacio de Congresos y Auditorio de Navarra, BALUARTE. - Día 1 Iruñea Kantuan II (Folclore cultural vasco | 20:00 h) - Día 1 Blanco y Negro (E...
ENVIRONMENT´S INFORMATION
Cildoz
It is located in the background of the San Cristóbal Mount in a quiet environment, 10 min from Pamplona, and being part of the Valley of Ezcabarte. Its San Esteban´s parish is originally Romanesque (beginning of XII century). The Perutxene House highlights, from the XVII century, next to the church, nearly cubic, it has three highs and the attic.
Excursiones
Pamplona, ​​Ultzama Valley, San Miguel de Aralar. Beach of San Sebastian 45 minutes away.
Actividades
Hiking, cycling.